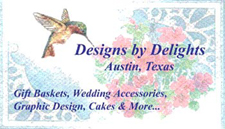 Cakes for any occasion and any theme!
Cakes by Delights are baked with the freshest ingredients and no preservatives.
Because of this, they are available only within a 50 mile radius of Austin, Texas.

Click here to view Cake Details, Flavors, etc.

(Click on an image to see an enlarged view. Our Galleries will change periodically - check back often!)
If you've ever had one of our cakes, you will never forget it! We think that's because each one is freshly baked "to order"; not "off the shelf." They are individually designed and decorated with homemade melt-in-your-mouth buttercream icing. . Send us a picture, napkin, invitation or any other idea and we can put it in icing! Obviously, icing doesn't lend itself to portrait painting, so we try not to do faces, but otherwise, we can do just about anything! And we can provide cakes to serve 10 to 600 or more.
Some of comments from some of our clients...

Contact Us: Info@DesignsByDelights.com
©2005 Designs by Delights